Kuali Training Materials
Navigating Kuali CM
Workflow
Courses
Programs
Audit Log/History
Course Fees
Reviewing Proposals/Action List
Agenda Builder
---
Navigating Kuali CM
Navigate to CIS and select Student Admin Services from the drop down menu

Click on the Kuali Curriculum Management App

Click on the Apps, Curriculum App

Use the left-navigation to get to the section you would like to edit
Courses - Search courses and submit new/change proposals
Program - Search programs and submit changes to proposals (new programs click HERE).
Emphases - Search programs and submit changes to proposals (new programs click HERE).
Gen Ed Apps - Search courses with general education/bachelor degree and submit new or 5 year applications
Proposals - Search for proposals in draft, review, approved or rejected
Reports - Run reports on curriculum
Agendas - Build an agenda for curriculum committee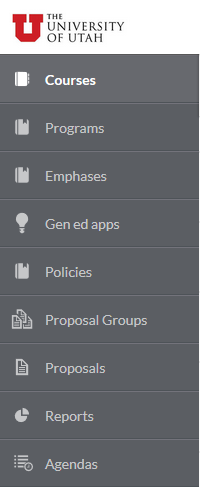 Use the search bar at the top of each page

Uses the Filters on the right side to help filter the results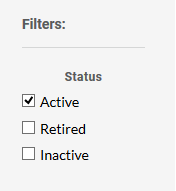 Workflow
There are several levels to the workflow (or process/chain of events) when new courses or changes to an existing course are proposed through Kuali.
Individual & Departmental Level
Any faculty or staff member at the University of Utah can submit proposals to add or change existing courses through Kuali. Note: individuals should not submit any proposed changes or additions unless the changes have been vetted and approved by faculty.
Department/School Administrator Initial Check – This step is to ensure the proposal is complete.
The Curriculum Administration office checks to ensure all information entered is accurate, complete, and appropriate and either approves or returns for revisions.
Departmental Level (if applicable)

The Department/Program Curriculum Committee Chair checks to ensure all information entered is accurate, complete, and appropriate and either approves or returns for revisions.
The Department Chair/Program Director reviews the proposal. If the Department Chair/Program Director approves, it is assumed at the college-level that the proposal has been vetted and approved by the faculty members of the pertinent unit.
College Level
Typically, the Associate Dean and the Curriculum Committee reviews the proposal and either approve or send back to the department/school for revision.
The Dean reviews for final college approval.
The Curriculum Administration completes the final review. If approved, the change will go into effect in the semester indicated on the proposal. Note: Proposals are submitted a future semester.

Workflow Options
Each proposal are required to select which curriculum committee it should go to for the department/program-level and college/school-level. Note: Selections can be different between the Department/Program and College/School.
General (All) - One curriculum committee that reviews curriculum
Undergraduate Only - Committee only review undergraduate proposals
Graduate/Masters Only - Committee only reviews graduate proposals
Doctoral Only - Committee reviews doctoral curriculum separately from masters curriculum
None - For the colleges without departments or School of Medicine departments that do not require MD committee approval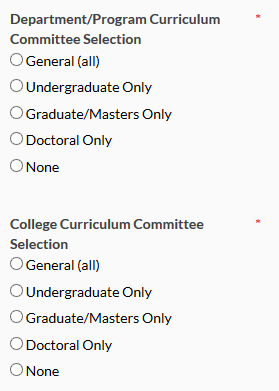 Please contact Curriculum Administration if you are unsure which options to select.
Courses
Creating a New Course
To start a new course, click on "+ Course" button in the upper-right hand corner.

Identify the semester that you wish the change to take effect. (This is not the semester during which you are proposing the course.)

Justification
Explain why the course is being created. This field may be required by some colleges.

Proposal Information
You should refer to the course numbering policy to help determine your selection. Curriculum Administration may send it back for corrections if it doesn't meet university policy or the number has been used in the last 5 years.
Grading Basis must be in alignment with the course numbering policy.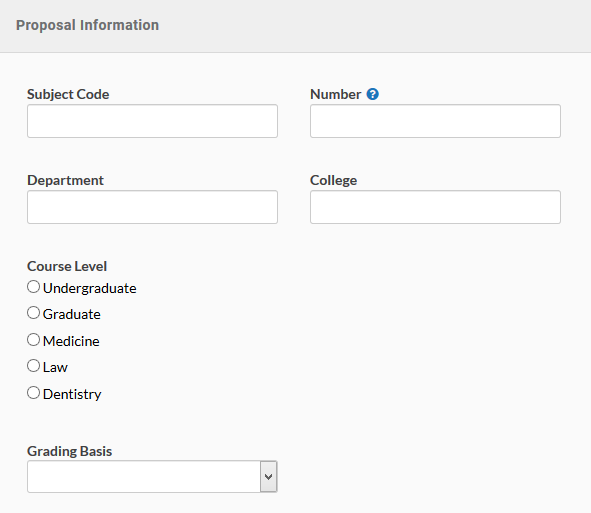 Select the correct curriculum committees (See Workflow Options)
Course Information
Short Title - appears on the class schedule and transcript
Course Title - appears in the course catalog
Course Description - appears in the course catalog and provides students with course information. This should not be left blank.
Component - type of instruction given, i.e. lecture, studio, seminar, etc. (Click HERE for component definitions)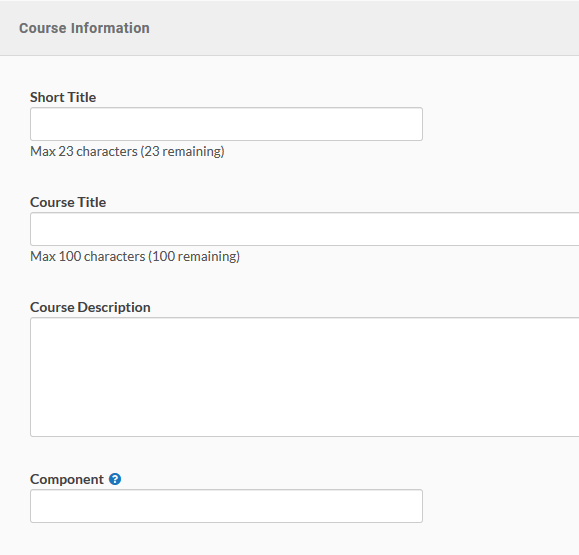 State Authorization
This section helps Curriculum Administration determine if disclosures or secondary compliance measure with other states need to be considered.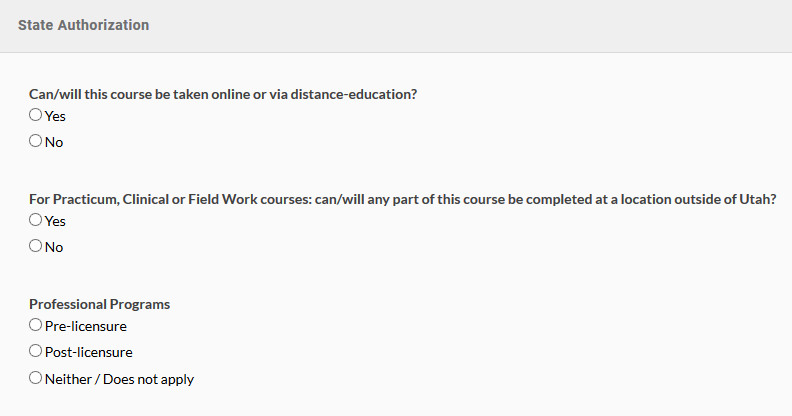 Credits
Choose to assign a fixed or range (variable numbers) of credits for the course. If you are assigning a range and the course is repeatable for credit (student receives credit multiple times, i.e. special topics sections, etc.) If you are assigning a range and the course is repeatable for credit, please ensure that the number of times the course can be repeated and the credit range are in alignment.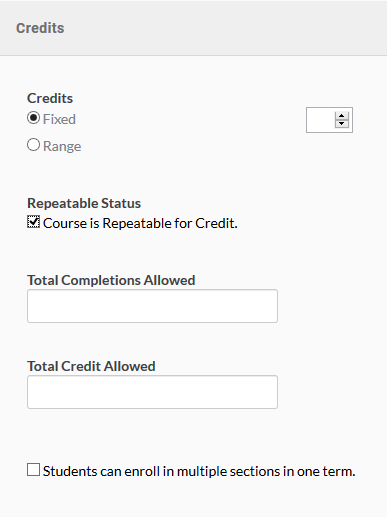 Similar Courses & Cross-listed Courses
Similar courses and cross-listed courses are NOT the same thing.
Similar courses have similar content but are treated as two separate courses. For example, if an undergraduate and a graduate course meet together but complete different assignments.
Cross-listed courses must be identical in Kuali and are treated as the same course. If a change is made to one of the courses, the cross-listed course must have an identical proposal submitted in Kuali. Curriculum Administration will not approve a cross-listed course unless both courses have identical proposals in Kuali.
Note: Cross-listed courses are not required to have the same pre-requisites.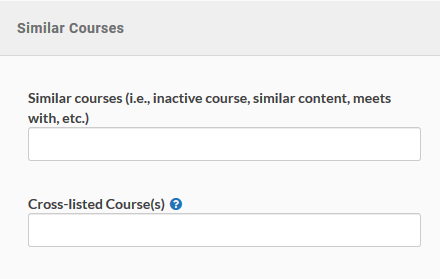 Prerequisites & Co-requisites
Prerequisites are courses students must take prior to registering for another course.
Co-requisites are courses students must be enrolled in at the same time as another course.
In the "Prerequisite/Co-requisite" text box, enter information that will appear in the catalog to inform students of any prerequisites or co-requisites.
The logic formulas or "Add Rule" allows PeopleSoft to recognize the prerequisite requirements. Enforced Prerequisites should still submit the PERC Report to the Registrar's Office, in addition to the Kuali proposal (Click HERE for more information on enforced prerequisites).
Be wary of changing from upper division to lower division if the course is listed as a pre-requisite for another course, as it may affect how students receive upper division credit. Please coordinate with the other appropriate departments before making a change. Pre-requisites must be in Kuali and the catalog to be enforced.
For questions about logic formulas (More Information Coming Soon) – Contact Curriculum Administration.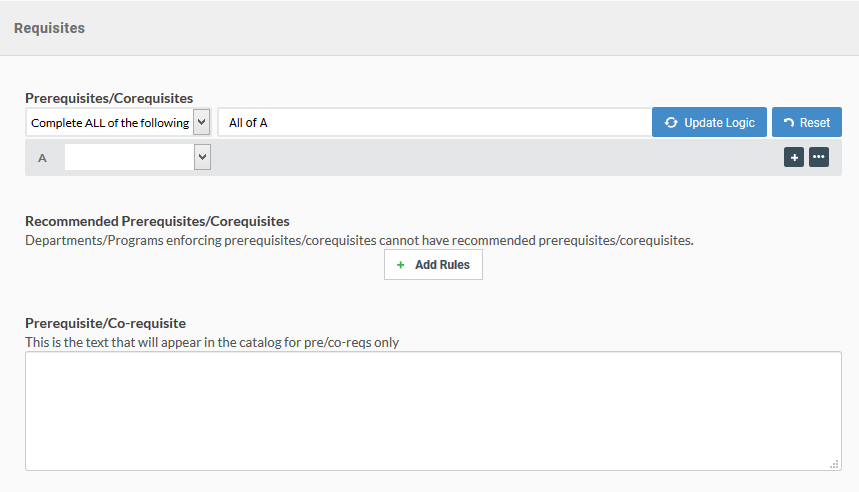 Examples:
Search for the example that most resembles your prerequisite/co-requisite request. If you are still unable to write the rule, please contact Curriculum Administration and we can assist you. Prerequisites noted with an * may not be used by courses enforcing prerequisites (Click HERE for more information on enforced prerequisites).
Table of Contents:
Examples
Prerequisites with Completed Courses:
Ex. 1 - Prerequisite: FCS 2400.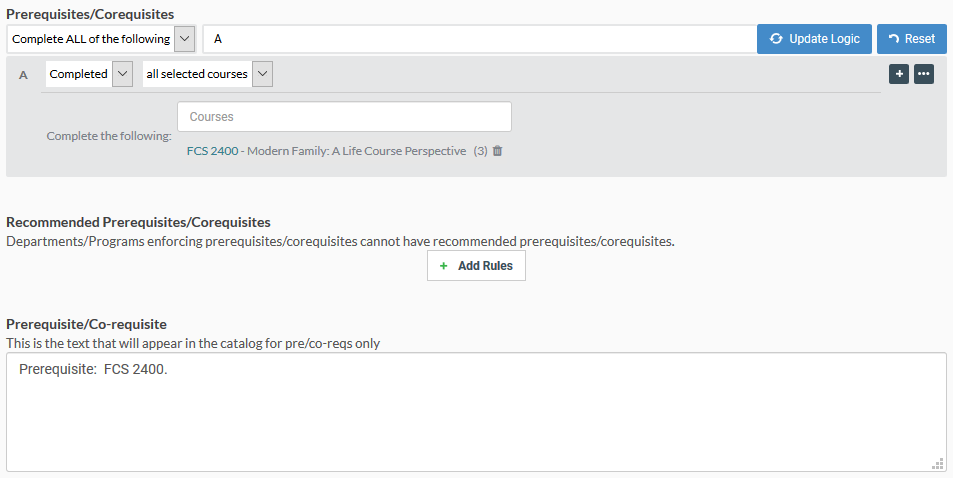 Ex. 2 - Prerequisites: ATMOS 6010 AND ATMOS 6020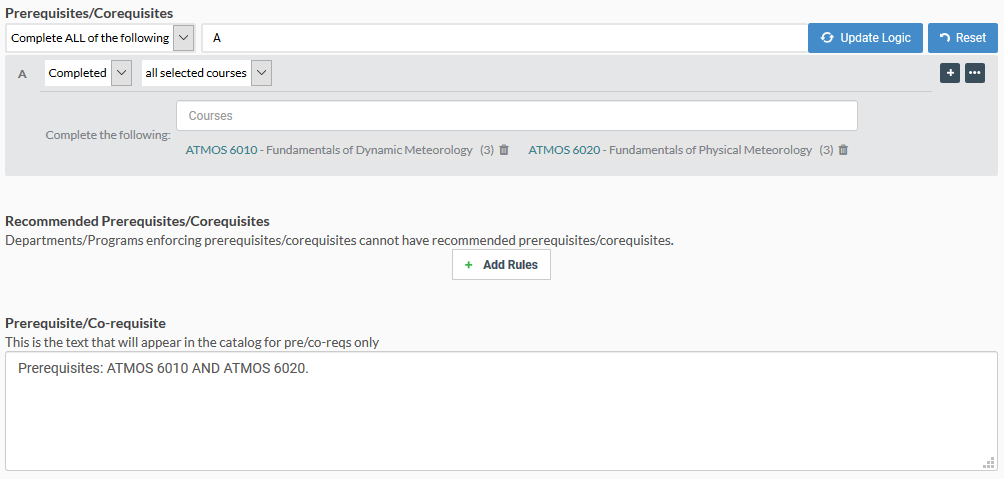 Ex. 3 - Prerequisites: CVEEN 5605 OR CVEEN 6650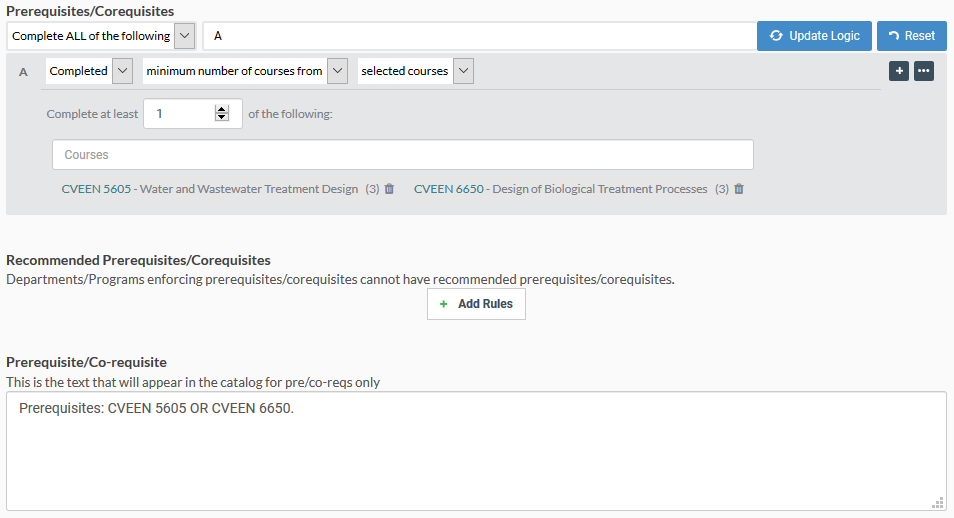 Prerequisites with Grade Requirements:
Ex. 1 - Prerequisites: B or better in FILM 3500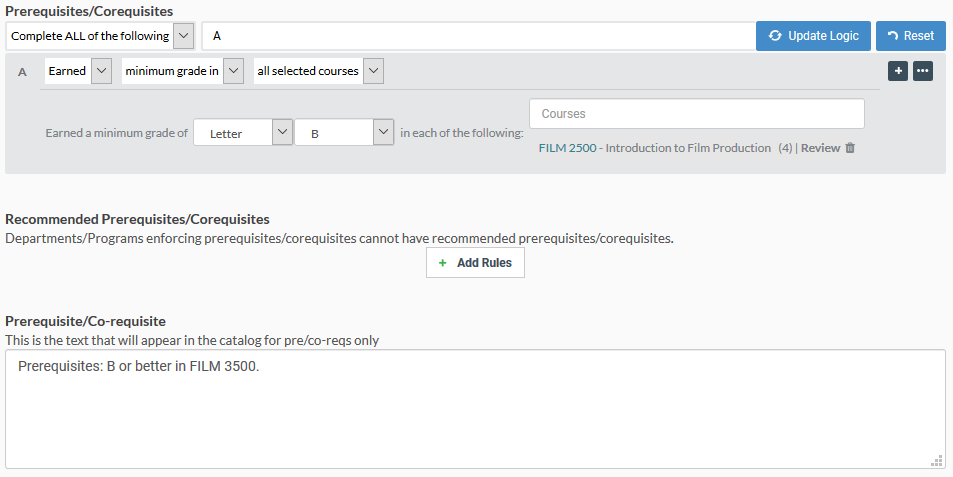 Ex. 2 - Prerequisites: "C-" or better in (CS 3505 AND 3810)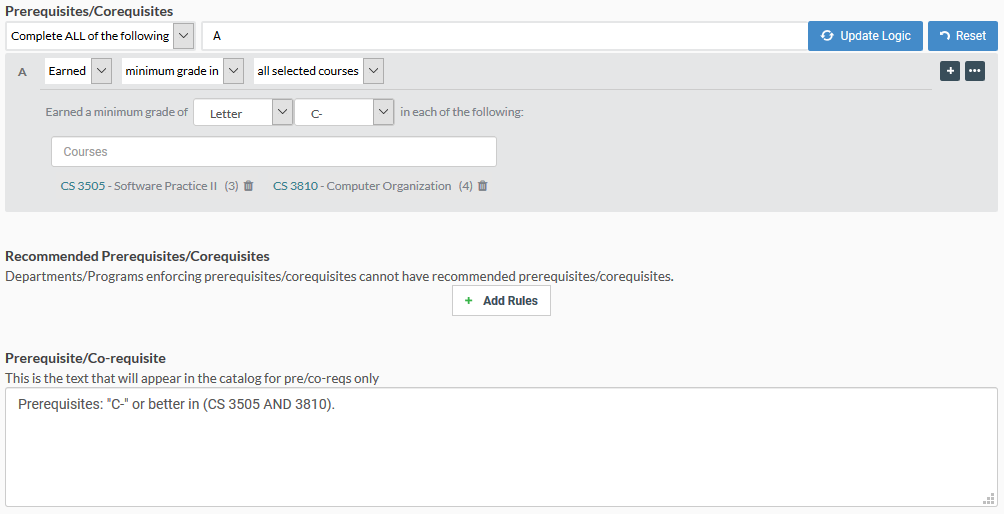 Ex. 3 - Prerequisites: C- or better in (ENGL 3510 OR ENGL 3530)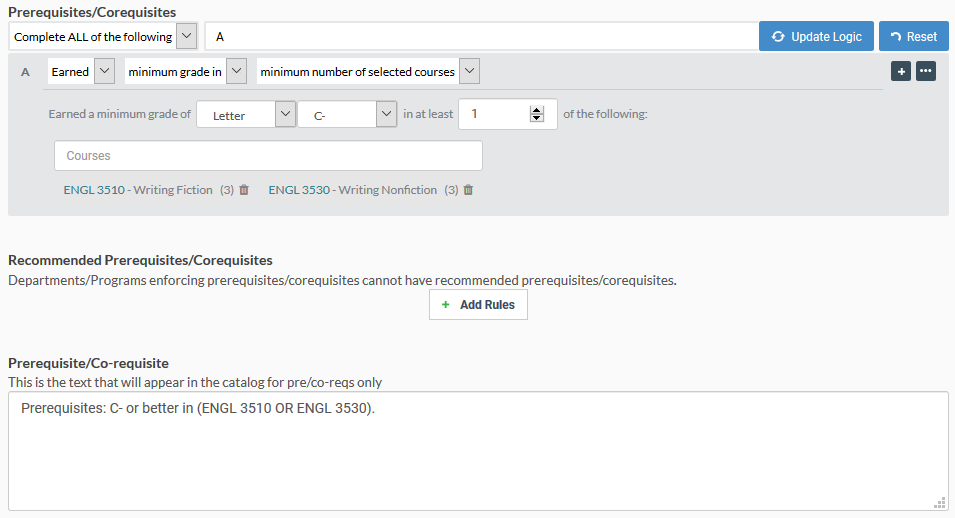 Ex. 1 - Co-requisites: CSD 2201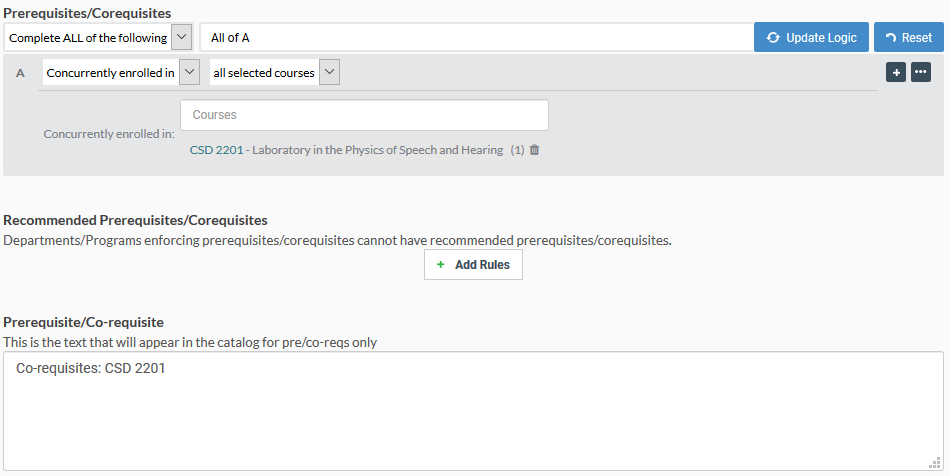 Ex. 2 - Prerequisites: C- or better in QAMO 3020. Co-requisite: QAMO 3040.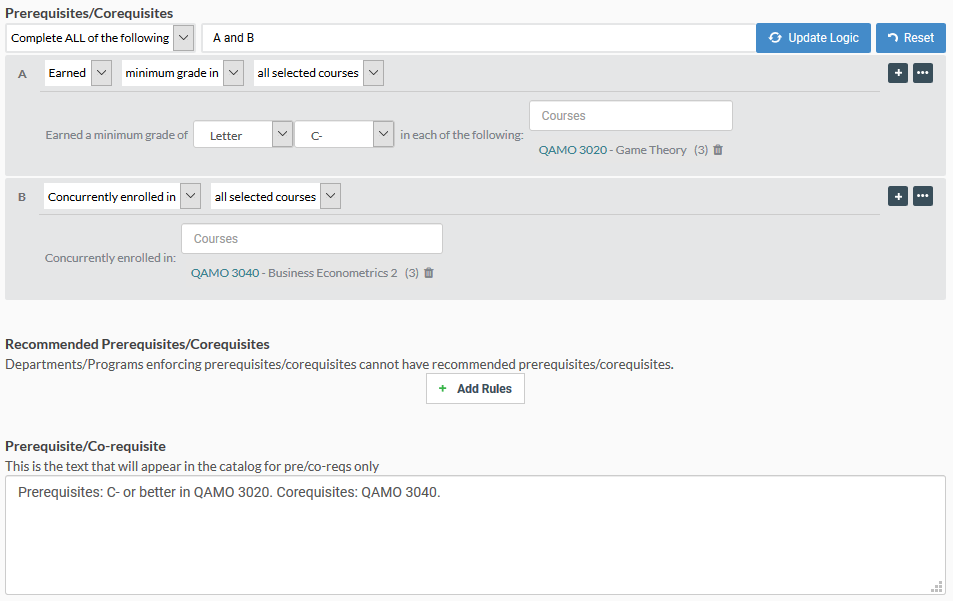 Ex. Pre/Co-requisites: MDCRC 6110 AND 6210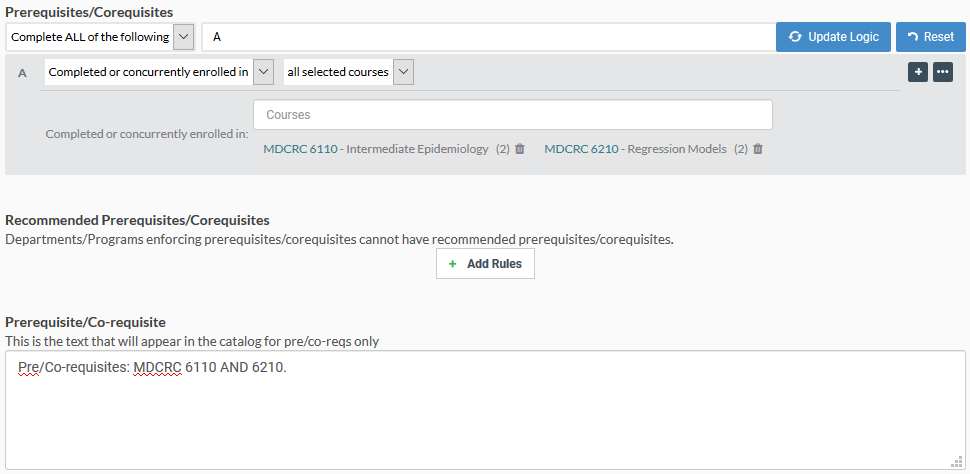 Ex. Recommended Prerequisite: PSYCT 7200*
Ex. Prerequisite: Must have a 3.5 Cumulative GPA.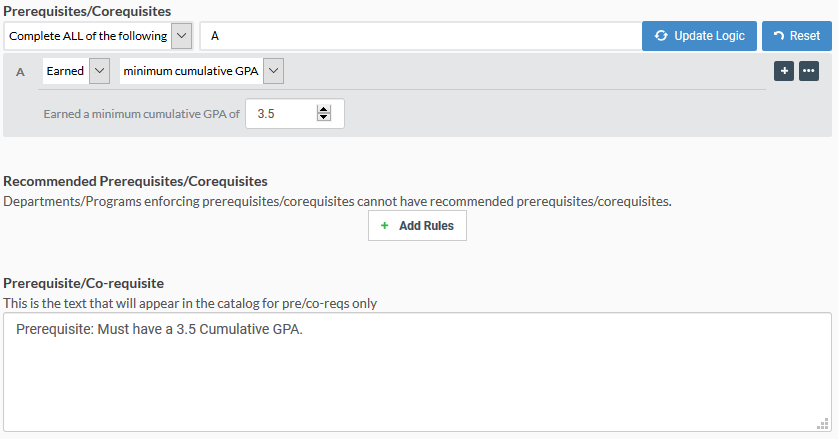 Specific School or Degree Admission Requirements:
Ex. 1 - Prerequisites: Member of Honors College.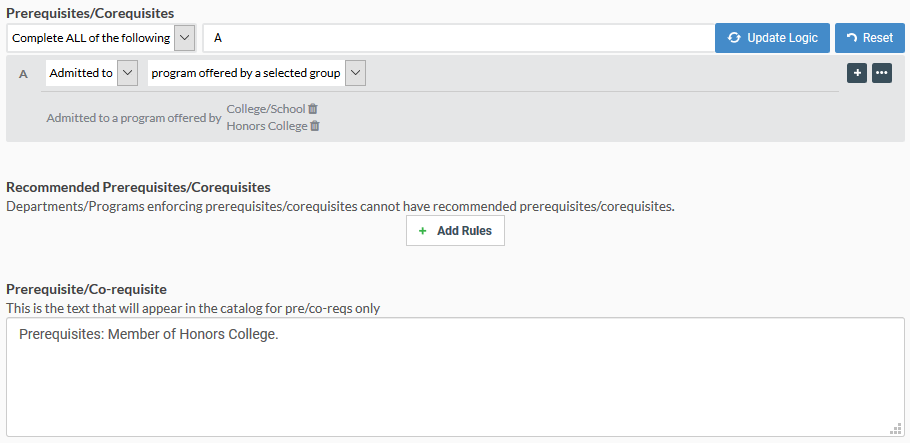 Ex. 2 - Prerequisites: Full major status in Biomedical Informatics.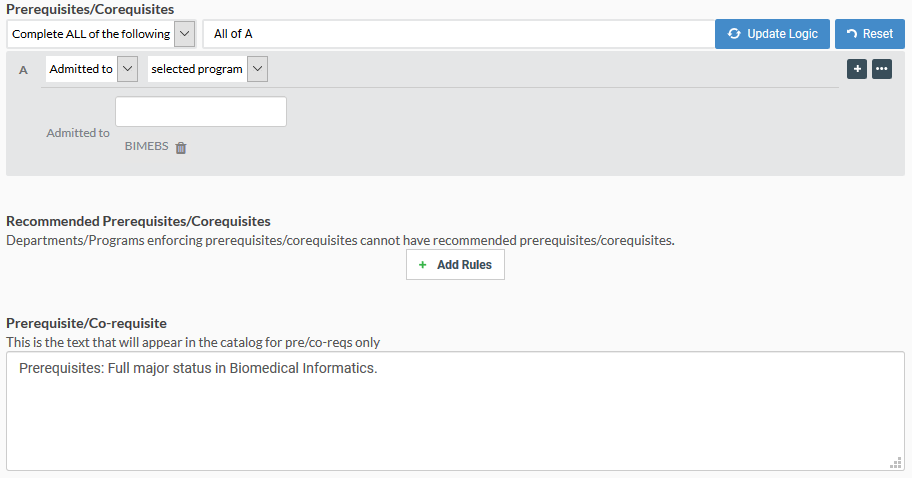 Equivalents, Department Consent, Test Scores, and other Free Form Text:
Ex. 1 - Prerequisite: JAPAN 2020 OR Equivalent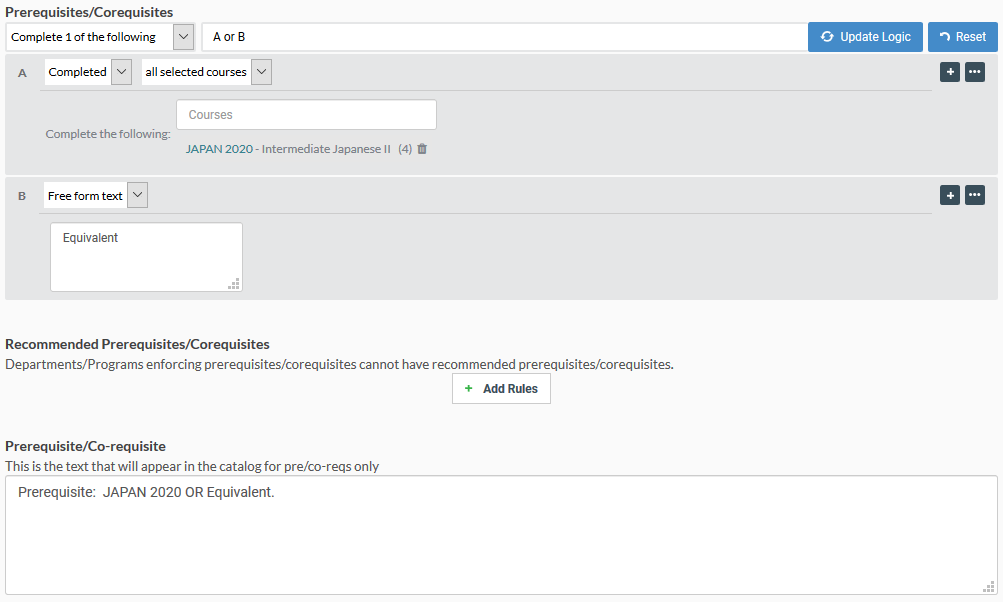 Ex. 2 - Prerequisites: Graduate Status OR Instructor Consent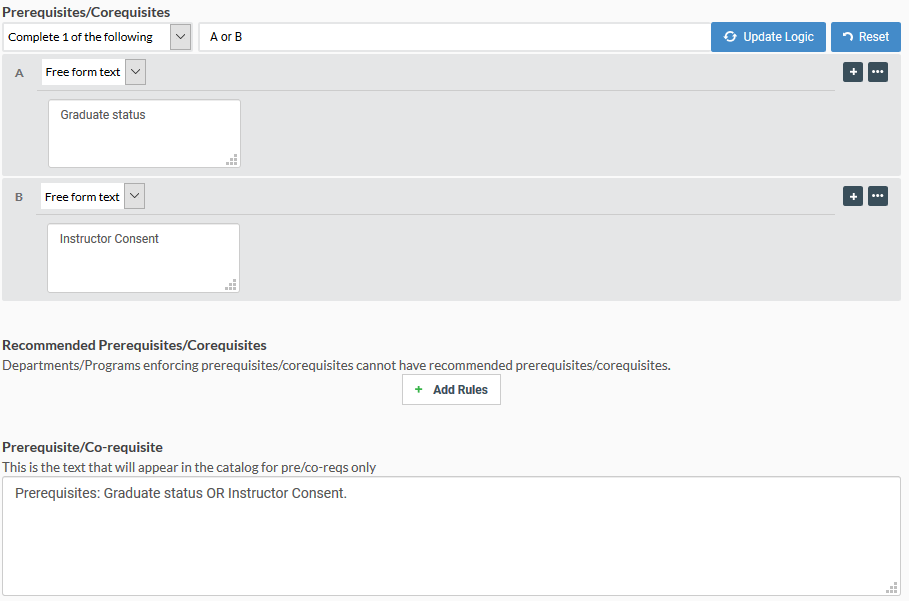 Ex. 3 - Prerequisites: C or better in (MATH 1170 OR MATH 1210 OR MATH 1250 OR MATH 1310 OR MATH 1311) OR AP AB Calculus score of 4 or higher OR AP Calculus BC score of 3 or higher.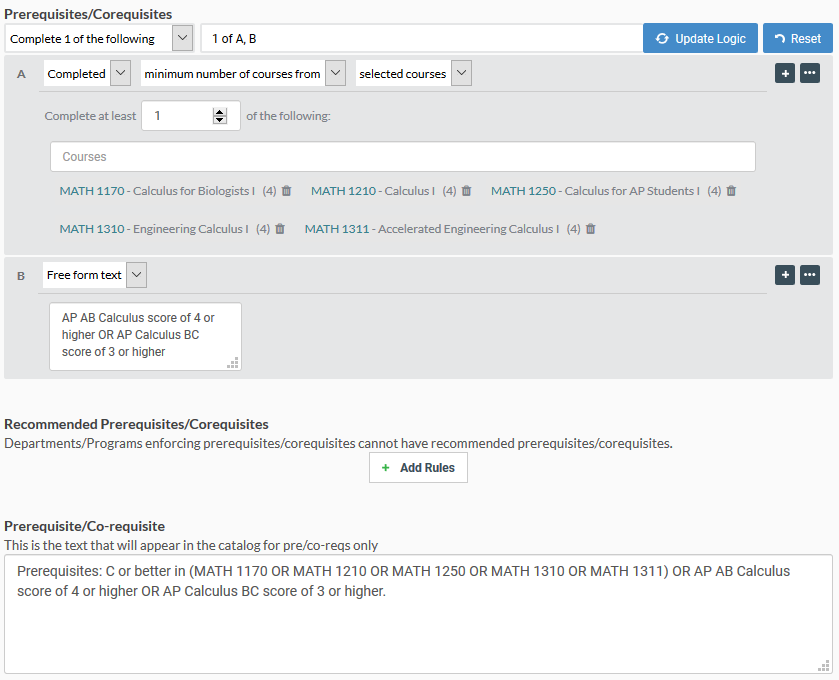 Ex. 4 - Prerequisite: SP ED 5010, 6011, 6021, 6022, 6030, 6040, and 6053. Corequisite: SP ED 6310, 6320, and 6340. (Pre and Co-requisites apply only to SP ED Early Childhood Licensure students.)*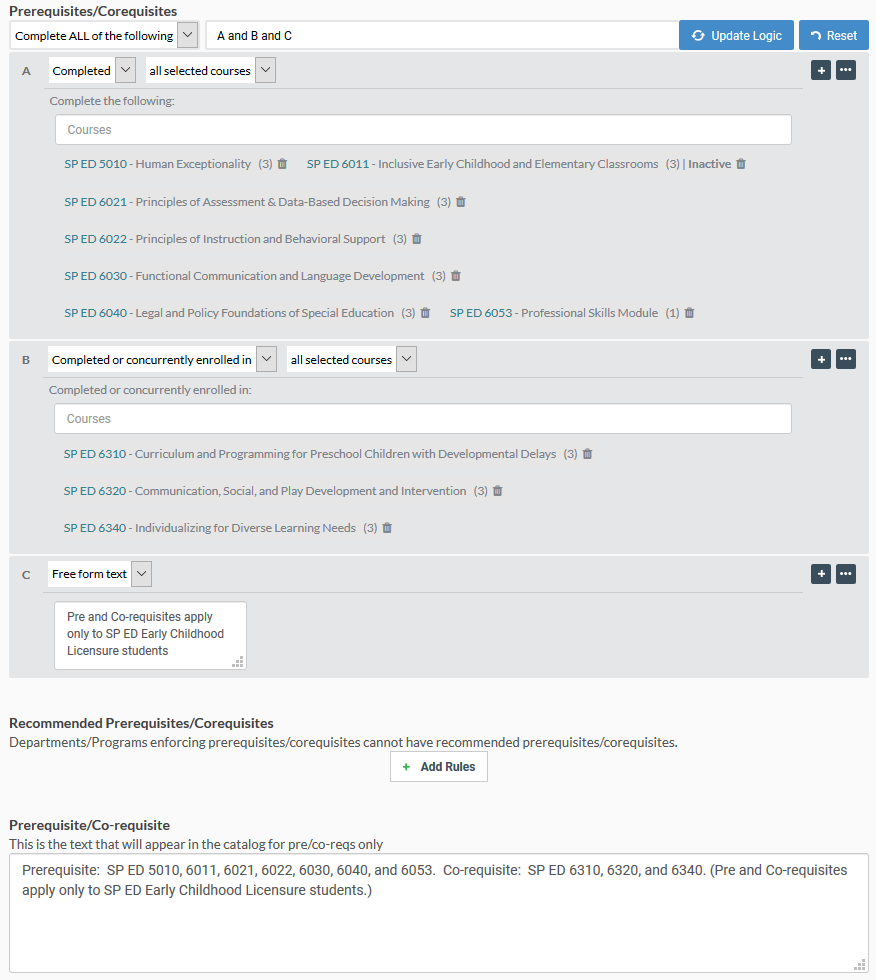 Ex. 1 - Prerequisites: B- or better in (WRTG 2010 OR WRTG 2011 OR EAS 1060 OR HONOR 2211) OR score of 4+ in (AP Lit & Comp OR AP Lang & Comp) AND (Member of the Business Scholars program).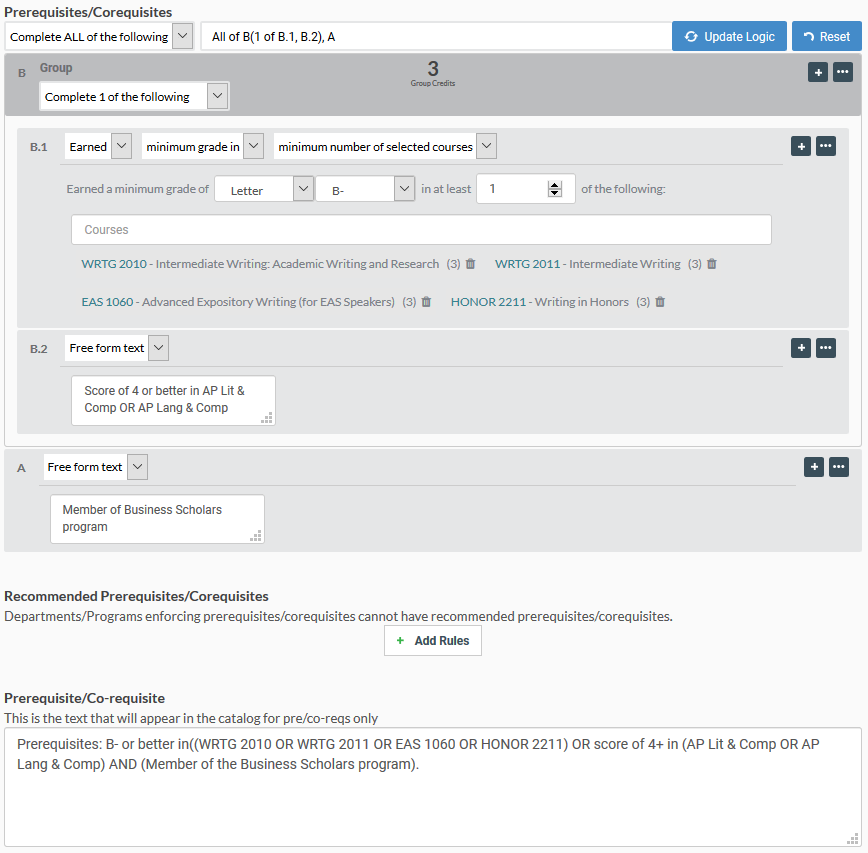 Ex. 2 - Prerequisites: "C-" or better in ((ART 2201 AND ART 2202 AND ART 2206 AND ART 2208) OR (ART 2300 AND ART 2350)) AND Minor status in Sculpture OR Instructor Consent""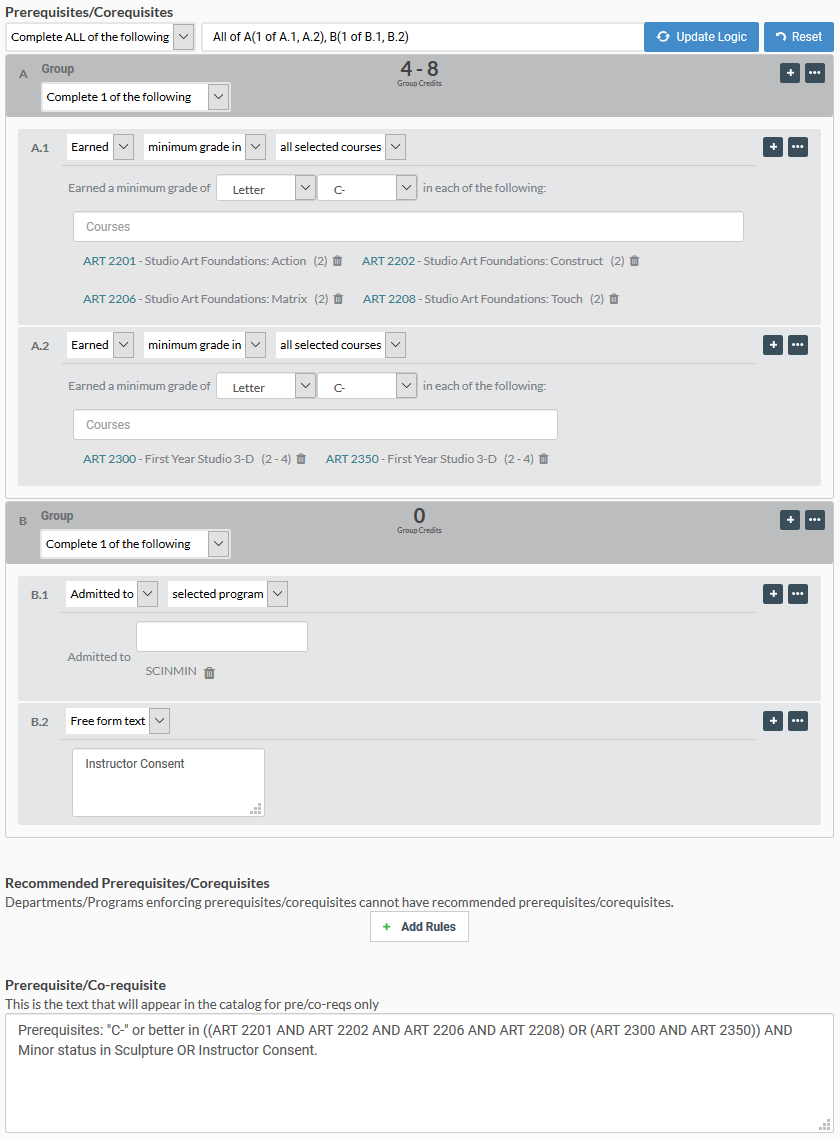 Ex. 3 - Prerequisites: C- or better in (CS 1030/1400 OR EAE 1030/1400) OR AP CS-A score of 4 OR Instructor Consent. Corequisites: MATH (1210 OR 1220 OR 1250 OR 1310 OR 1311) OR Higher Math OR AP CalcAB score of 4 or better OR AP CalcBC score of 3 or better.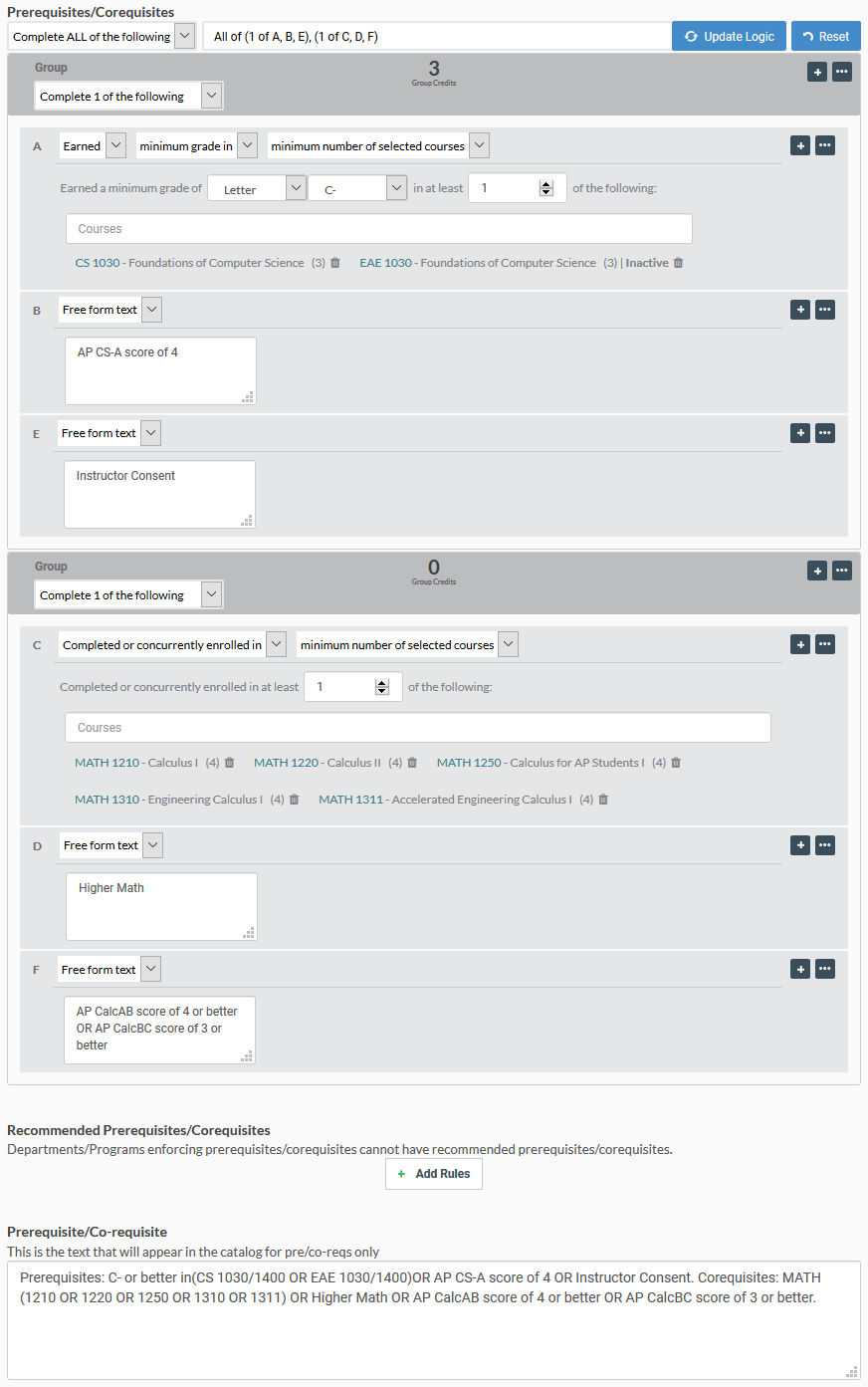 Ex. 4 - Prerequisites: ((AP Calc AB score of 3+ OR ACT Math score of 28+ OR SAT score of 630+ OR Accuplacer CLM score of 95+ OR C- or better in (Math 1050 AND 1060) OR MATH 1080) OR (BIOL 2010 OR 2020 OR 2021 OR 2030)) AND Instructor Consent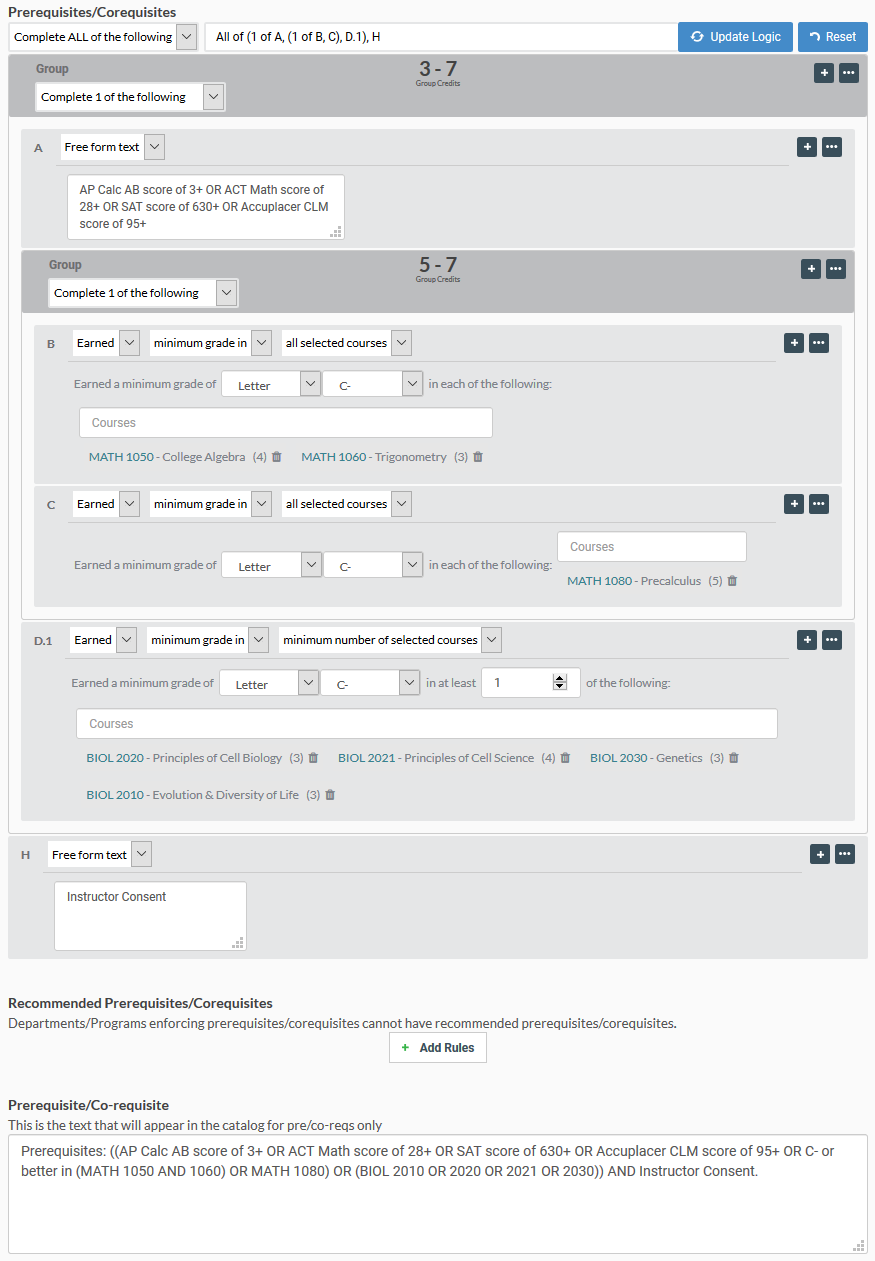 Ex. 5 - Prerequisites: (Member of Business Scholars program OR Member of Honors College) AND (3.5+ UofU GPA) AND (Full Major status in the Eccles School of Business) OR (C- or better in ACCTG 2600 AND Full Major status in QAMO).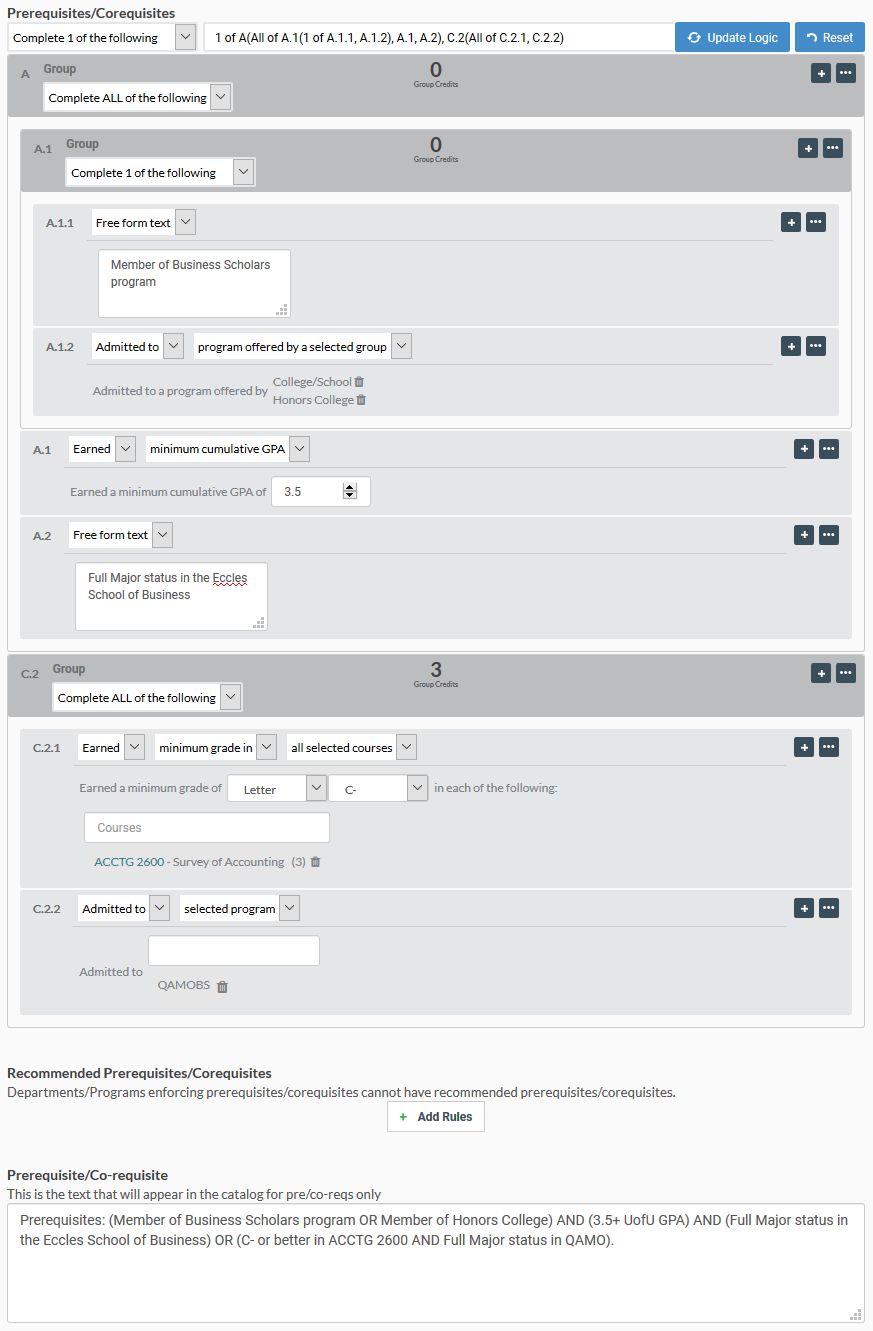 Dependencies
This section will automatically populate (for existing course) to indicate if the course is listed as a prerequisite/co-requisite or program requirements. Departments/College should be mindful of the dependencies while making changes and should communicate with other departments/colleges about their change as appropriate.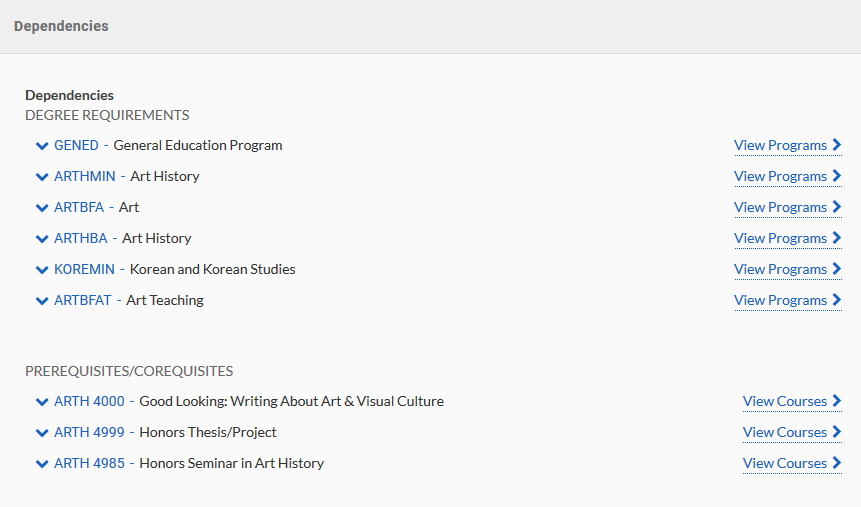 Supporting Documents
Here you can attach syllabi, budgets and documentation for course fees, committee notes, etc. If you do upload documents, please use a clear name for the reviewers.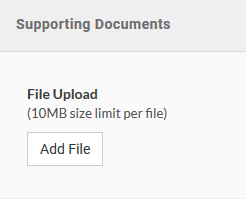 If there are no course fees, leave amount requested blank, even inputting a 0 will start the approval process.
Outcomes
Enter learning outcomes if you are proposing a new course. You may also link these to approved program-level outcomes. (More Information Coming Soon)

Once the proposal is complete, click "Leave Edit Mode"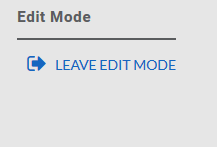 The click the select "Submit for Approval" or other options
Submit for Approval - Move to the first step in the Workflow
Edit - Goes back in the proposal for additional changes
Delete Proposal - Deletes proposal from drafts
Sharing - Allows you to send the proposal for additional review to other university staff/faculty/administrators
Print - Allows you to print the proposal
Audit Log - Summary of proposal changes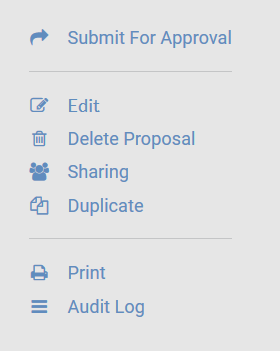 Proposing Changes to an Existing Course
Type the name of the course you would like to propose changes to in the search bar. Click on proposal in search results.

Click on Propose Changes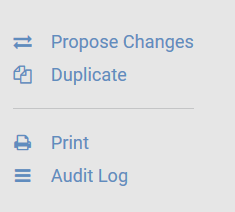 Status
There are options to make a course Active, Retired, or Inactive. We do not currently use the "retire" option. Inactivating a course will remove it from the catalog and it cannot be scheduled.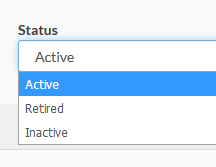 Identify the semester you wish the change to take effect. (This is not the semester during which you are proposing the course.)

Justification
Communicate all of the changes you are making to an existing course and a rationale for why changes need to occur. Some college require this to be filled out.

Make the changes within the Kuali page that are explained in the justification. See section on Creating a New Course for explanations about area area of the course proposal.
Programs
New Programs/Name Changes
New programs and name changes must go through additional approval prior to being inputted into Kuali. Visit the curriculum website for more information.
Changes to Existing Program (No Emphases)
Go to the Programs tab in the left-hand navigation and search for the program that you'd like to edit and click on it.

Select Propose Changes on the right-hand side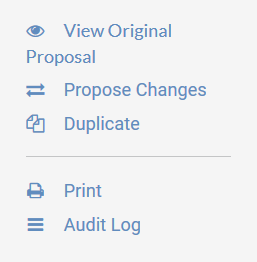 Select the start date for the changes. This should be for the next effective catalog year (i.e. for 2019-2020, select Fall 2019).

Include a justification for the change for your curriculum committee. May also include a brief summary of the changes.

Program Information
Program information does not need to change with each proposal. You will be unable to edit the name of the program.
Degree Name: Name that will appear on the transcript
Degree Type: Type of degree awarded (Minor, Bachelor of Arts, Master of Arts, etc.)
CIP Codes: Government code for type of program
STEM: Indicate whether a program is a STEM program or not
Program Type: Catagory of program (Minor, Undergraduate, Masters, Doctoral, etc.)
Department/Program: Where program is housed
College/School: Where Department/Program is housed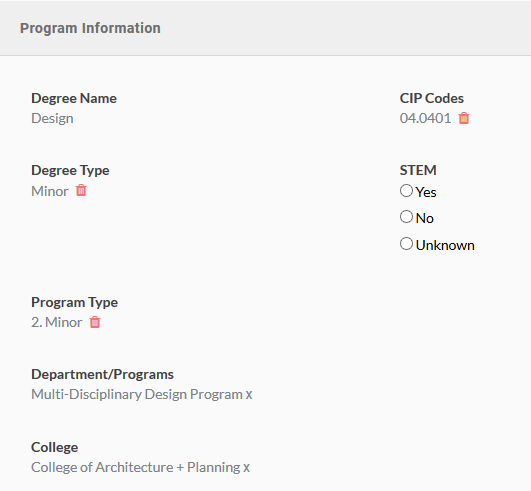 Workflow: (See Workflow Options)
Contact Information: Website, address, phone number, and email address that appear in the catalog and on MDD (undegraduate programs). Note: This does not update the schedule and a request to scheduling@utah.edu seperately.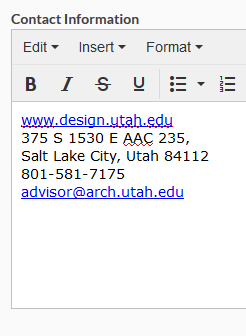 Minimum Degree Hours: Total hours it takes to complete the program (i.e. 122 for undergraduate, 30 for graduate, etc.)
Minimum Major Hours: Total hours for undergraduate degrees that does not include the General Education/Bachelor Degrees
Program Description
Include a description of the degree program in this text box.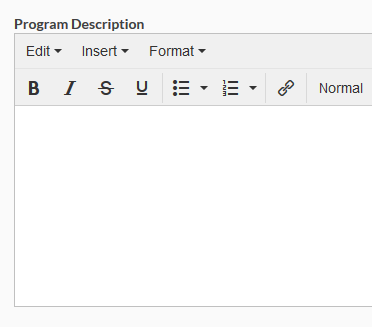 Professional Accrediting Bodies
Include any professional accrediting bodies for your degree programs.

Emphases
Approved Emphases (those that print on a transcript) will appear in the Program Information section. Respond to the option, "Students are required to select an emphasis:"
Yes - Students must select one of the emphases for graduation
No - Students may select an emphasis or they can complete the degree without an emphasis
N/A - All other programs that do not have approved emphases
State Authorization
Complete the State Authorization questions related to this program. Individual emphases may have different requirements and should be filled out on the emphasis page. If a program is approved to be offered online or via other distance education model, the approval date will be listed under the "NWCCU Distance Approval."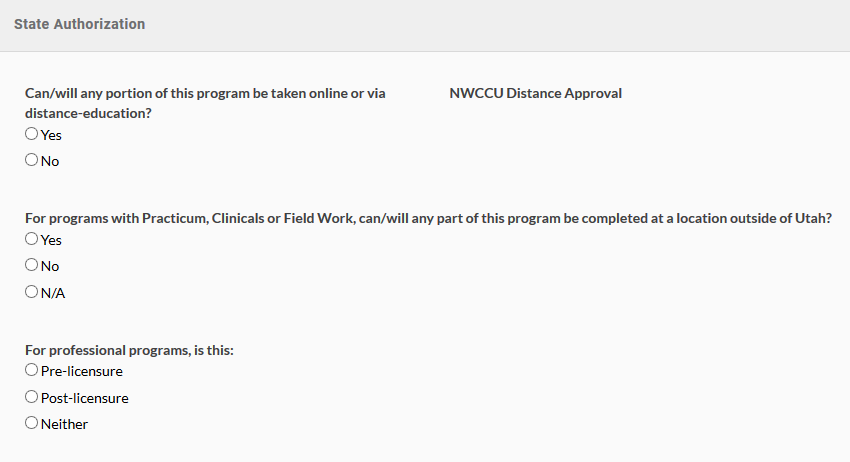 Admission Requirements
Admission Requirements are the requirements for the degree program that are above the requirements to be admitted to the University of Utah. These additions will be sent to the Academic Senate as a notification. Examples may include: auditions, prerequisites, meeting with advisor, etc.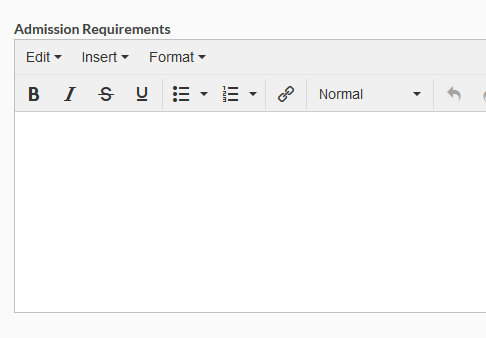 Graduation Requirements
Graduation Requirements are the requirements that are above the minimum requirements to graduate from the University of Utah. Examples may include: minimum grade for major courses, additional residency requirement for students, exit interview, etc.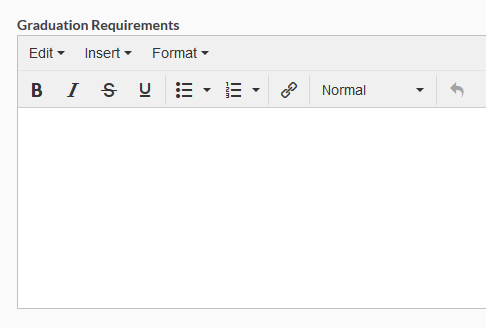 Honors (Undergraduate Only)
Honors Requirements are the requirements that a student must complete to receive an Honors degree. Each student would need to complete the Honors Required Courses and may be subject to additional requirements from the Department/Program as applicable. This is only applicable to undergraduate baccalaureate degrees.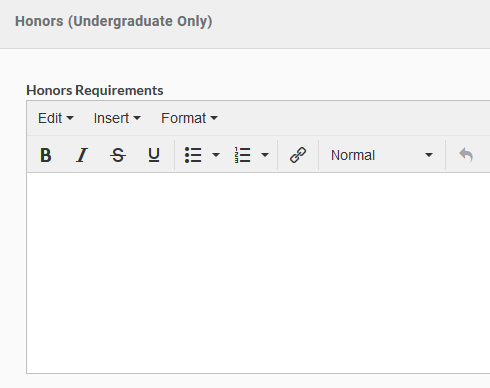 Notes
The Notes section is for any information within a program that can't be listed in any other area. The majority of prorams will not have any information here. Examples may include: combined BS/MS program information, dual degree information, etc.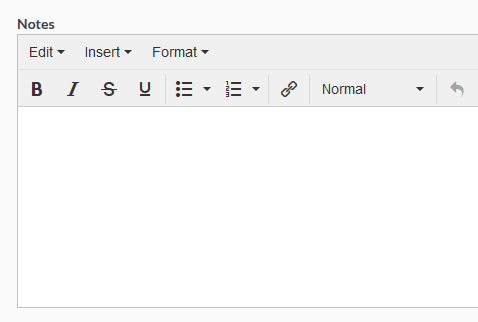 Degree Requirements
The Degree Requirements are the list of courses a student must complete to be awarded a degree. Changes to this section will only be applicable for a future catalog year. This information will be used to publish the General Catalog and My Degree Dashboard - MDD (Undergraduate Students Only).
Section Title
Each Section within the degree rules tool will have a title. This is typically Required Courses or Electives. Click the arrows in the banner to view additional name selections.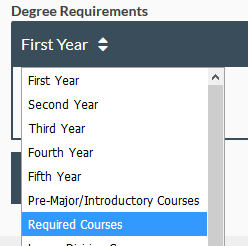 To select a custom name choose the option "Custom Grouping" at the bottom of the drop down menu. The type in the new title.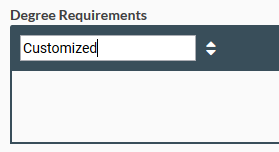 Additional Settings - Banner
Settings - Use the settings in the banner to make a section inactive, optional, include semesters, or delete section
Plus - Add another section
Down/Up Arrow - Use to collapse or expand the section requirements
Additional Options (...) - Use to move the section up or down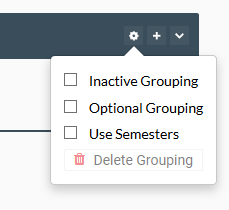 Changes to Existing Program (With Emphases)
Table of Contents:
Examples
Completed Course Requirements:
Ex. 1


Ex. 2


Completed Courses from Subjects and Ranges:
Ex. 1


Ex. 2


Ex. 3


Ex. 1


Ex. 2


Ex. 1


Ex. 2


Course Credits from Subjects and Ranges:
Ex. 1


Ex. 2


Ex. 3


Ex. 4


Ex. 5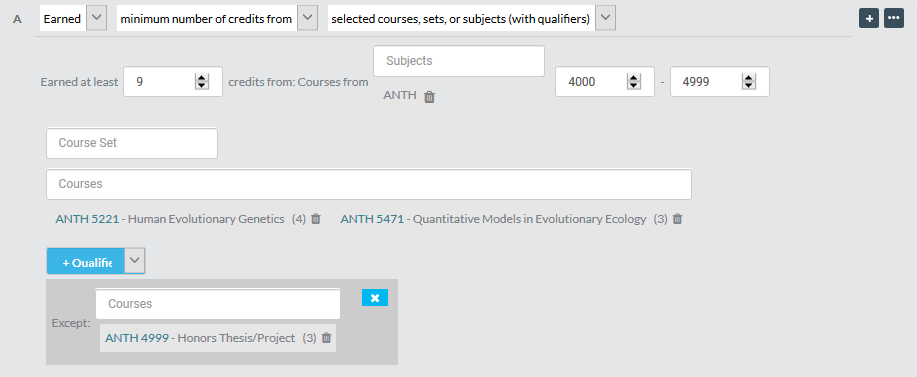 Note: Currently these must be edited by an administrator, contact curriculum@utah.edu.


Audit Log/History
Audit Log
Viewing the Audit log allows you to see the history of a proposal or course in Kuali. Note: If you need to see any changes prior to Spring 2017, please contact Curriculum Administration.
Type the course or program into the search bar

Click on the proposal you want to view from the search results

Click on the Audit Log on the right-side of the proposal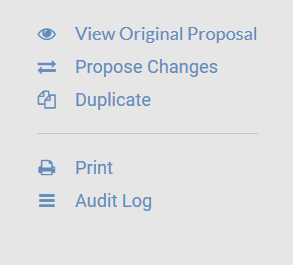 The audit log will appear on your screen. Click on "View/Hide" to see the details of the exact change that was made by the users listed.

History
The history is the record of proposals submitted (since starting Kuali in Spring 2017).
Go to the upper-right hand corner and click the semester.

This brings you to the previous version of the course. Click on View Original Proposal.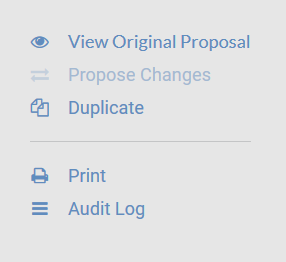 The proposal that was originally submitted for that change will appear. The audit log is consolidated once a change is approved, so you will need to go to View Active Course to view the Audit Log.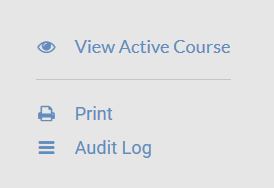 Course Fees
If course fees are requested, a second approval process will begin in the system and go through the Special Fee Review Committee for approval. Curriculum changes submitted with a course fee proposal may not be approved until the course fee is reviewed, contact Curriculum if you have any concerns.
If there are no course fees, leave this section blank, even inputting a 0 will start the approval process.
If you are removing a course fee the same approval process for adding a course fee will start.
The chartfield must be complete in the format of 01-ORGID-ACTIVITY-ACCOUNT. The University Cashier must collect the student fees. Associated learning outcomes with the course fees must be included. Do not leave any section blank.
Associated Learning Outcomes must be connected to the course fees for consideration.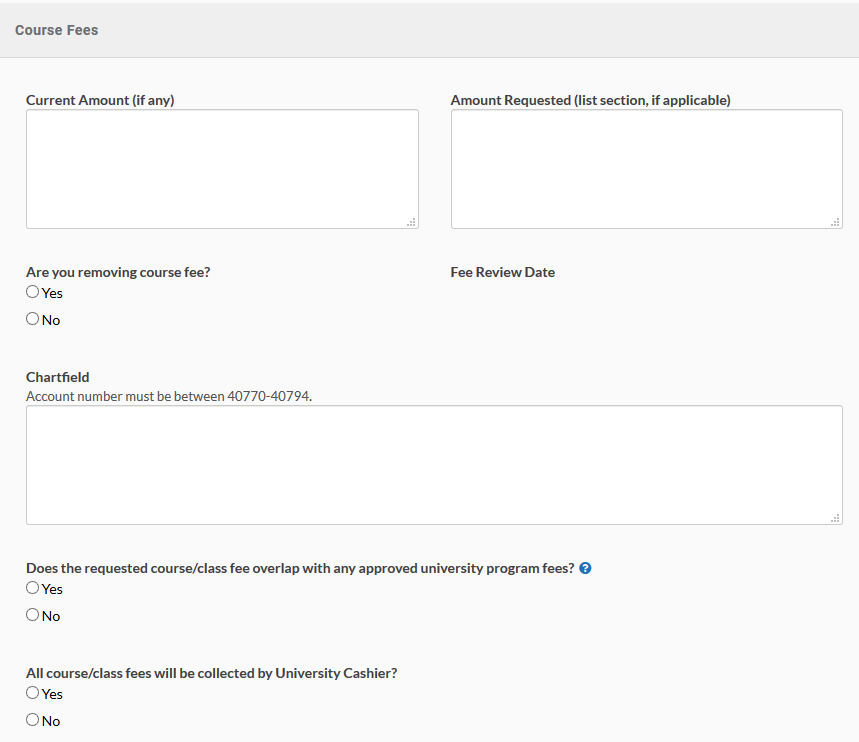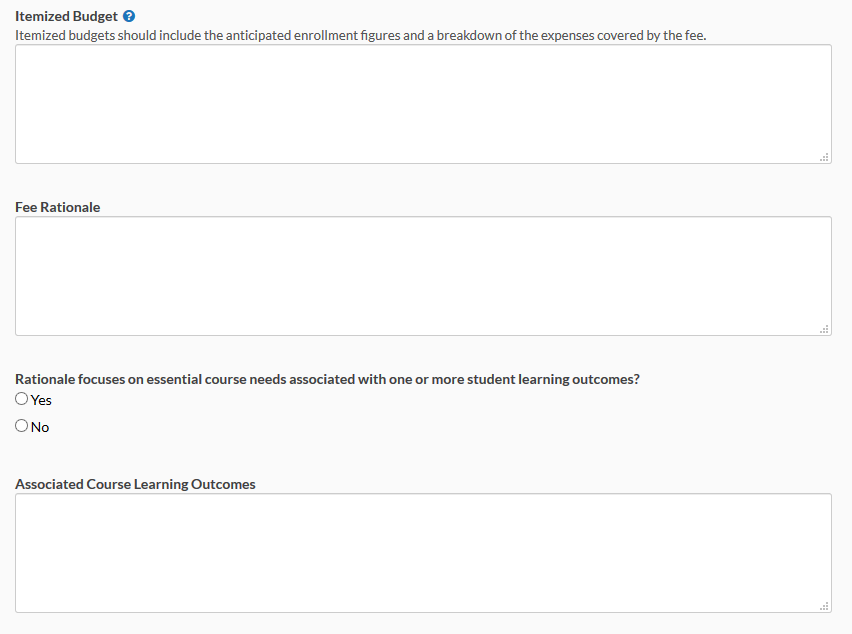 Reviewing Proposals/Action List
Designated people will be listed in part of the workflow will need to review proposals. They may be approving on behalf of a curriculum committee and may need to wait until the next curriculum committee meeting to approve changes.
You review any approval request in multiple ways: 1) email from Kuali prompting you to review, 2) Other users can send a URL with a link to proposal, 3) Action List (see below), 4) finding the proposal through "Proposals" on the left-hand navigation, and 5) Agenda Builder.
If you are prompted to review a proposal for approval, you will have three options: Approve (or Re-Approve, Send Back, or Reject.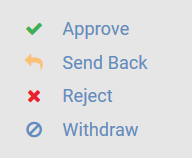 If you approve the proposal, simply select Approve (or Re-Approve).
If the proposal needs revision, select Send Back. You can add comments directly in Kuali to communicate why you are sending the proposal back to the originator. You can select it to come back to you or back through workflow. Use the "Prev/Next" to select the originator or other person in the workflow to make the changes. Note: All those in the approval process, also have the ability to select "Edit" and make the changes if that is appropriate.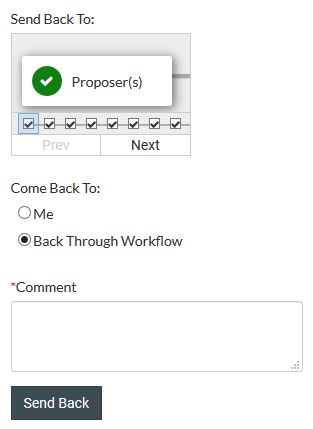 Proposal will show a message with the comments of what needs to be corrected

Reject a proposal is

not

recommended. If revisions are needed select the Send Back option. Rejecting a proposal will not allow the proposer to make any changes and a new proposal must be created from scratch.
Withdraw is only an option for the person who submitted the proposal and Curriculum Administration. Please contact Curriculum Administration if you need to withdraw a proposal.
Action List
The Action List is a list of items that are currently waiting for your approval.
This list can be found in the upper-right hand corner of the web browser.


Agenda Builder
The Agenda Builder allows you to group your proposal for committee meetings into one page and URL.
Click on the Agenda button on the right-hand navigation
Click on the "+ New Agenda"

Give the agenda a unique title, including your college or department name so you can find it easily. Then fill out the Date, Time and Location sections.

You can fill out the attendees or leave it blank. When inputting the names, it has their name listed through Human Resources, unless they've listed their preferred name. You can also type in the uID to make sure you're selecting the correct person.
This list can be used to send the agenda through the Agenda Builder (email comes from Kuali) or the URL can be copied and emailed through your regular @utah.edu email address.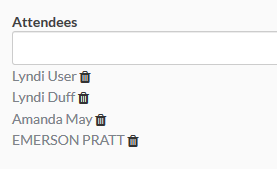 The description in the agenda can be used to include any other information needed in the meeting or additional discussion items that are being reviewed that will be discussed that are not included as a proposal in Kuali.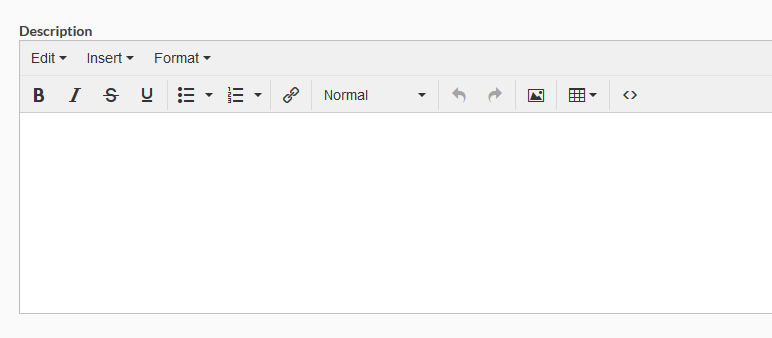 Attachments can be included with your agenda. The attachments in the individual proposals should not be included because those are already attached in those proposals. Examples of other types of agenda include new degree proposals, previous meeting minutes, worksheets, etc.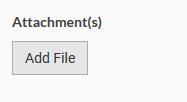 Selecting the proposals for the meeting:
Type the proposal names into the search bar
Select the proposals from workflow.

Click the "Select from Workflow" button
Choose the Type of proposal on the top ribbon: Course, Programs, Experiences (Gen Ed Apps), Specializations (Emphases)
Select a node from the workflow image. Select the Department/Program or College/School name to filter the search results. Note: This may be difficult to know which one to select the first time. Typically it will be the first Department/Program or first College/School option. Feel free to contact Curriculum Administration for clarification based on your curriculum committee selection.
Select all the proposals that should be included and click "Add Proposals Button"
Proposals list includes the ability to move/drag proposals to a new order, a link to the proposal, name of proposal, type of proposal, current workflow status, and ability to delete/remove from agenda.

Click on "Leave Edit Mode"
Send out agenda using the URL or the Send option in the navigation or come back to it with additional edits by going back to Agenda on the right-hand navigation.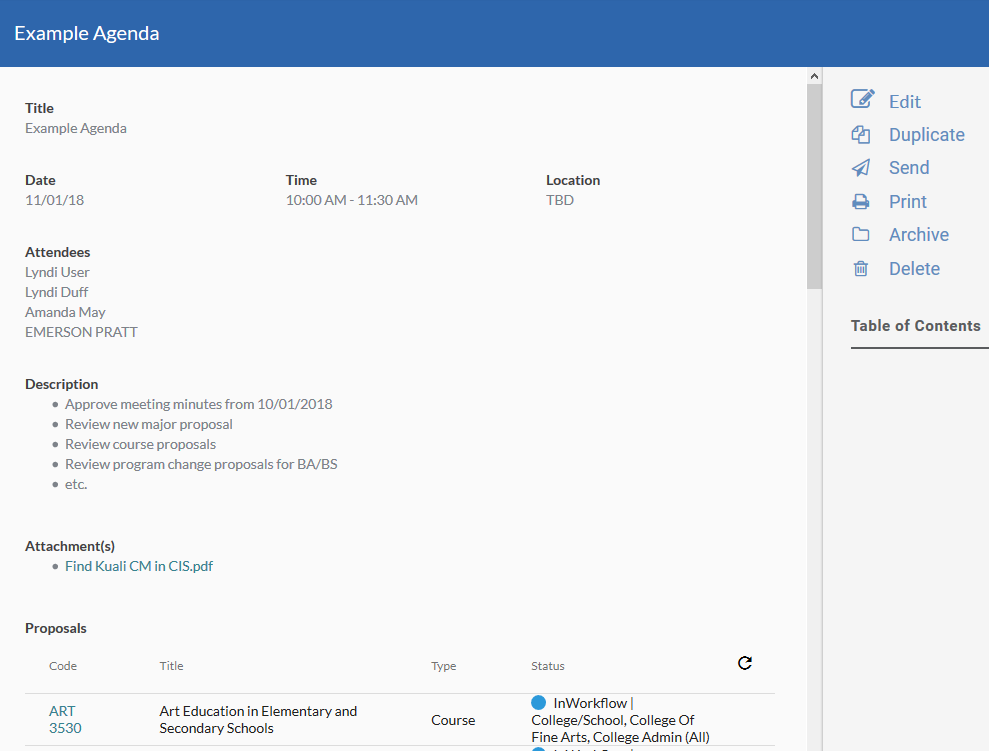 Contact Curriculum
What is Curriculum Administration?
Curriculum Administration manages the technologies for curriculum approvals and changes at the university.
Kuali Curriculum Management (CM)
Kuali Catalog
Kuali Build
State Authorization
Other processes include:
New Degree Approval
Course Fees
Program Fees